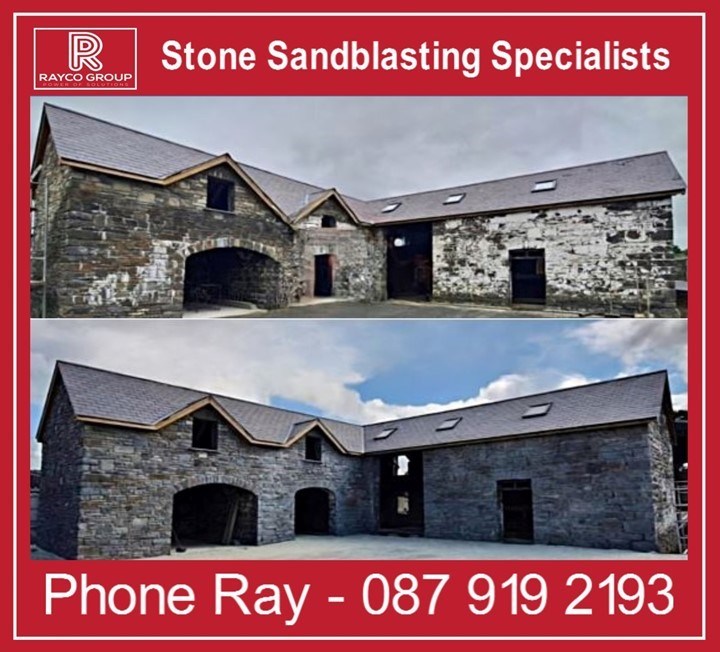 Stone Sandblasting Waterford are masonry sandblasting specialists in County Waterford who provide a full range of stone restoration sandblasting services throughout all areas in Waterford.
As Waterford stonework sandblasting professionals, Stone Sandblasting Waterford are part of the Rayco Group, who are fully insured, VAT registered, Ray Cahill, owner, and operator is a highly skilled sandblaster, equipped with cutting-edge sandblasting machinery and sandblasts all types of stonework structures throughout all areas in County Waterford.
The stone restoration services in Waterford provided by Stone Sandblasting Waterford includes: sandblasting stone, stonework restoration, sandblasting brickwork, shotblasting stone, sandblasting masonry, brickwork restoration and all sandblasting services.
Stonework and masonry sandblasting in Waterford is a speciality of Stone Sandblasting.
Having sandblasted numerous acclaimed stone buildings in Waterford, Ray is well-versed in the best sandblasting method to restore specific stonework structures, old stonework and old brickwork is sandblasted using the appropriate pressure, and free quotations for sandblasting stone buildings in Waterford are provided.
The stone and masonry sand blasting services in Waterford provided by Stone Sandblasting Waterford includes: sandblasting listed buildings, sandblasting period building, sandblasting stone walls, sandblasting stone houses, sandblasting churches, sandblasting civic buildings, and sandblasting all stone structures.
Interior masonry and interior stonework sandblasting in Waterford is carried out by Stone Sandblasting Waterford.
Highly skilled in interior stone house interior restoration, Ray will advise on interior stonework restorations, precision dustless wet sandblasting is used to clean old masonry and brickwork, old timber beams can be sandblasted, and interior sandblasting in Waterford can be arranged at short notice.
The interior stone sandblasting services in Waterford provided by Stone Sandblasting Waterford includes: fireplace sandblasting, chimney breast sandblasting, wooden beam sandblasting, interior wall sandblasting, interior brickwork sandblasting, stone stairway sandblasting, and all interior sandblasting.
Consultations on stone building restorations in Waterford is provided by Stone Sandblasting Waterford
With extensive experience in sandblasting all varieties of stonework, Ray, is highly skilled in restoring all kinds of masonry structures to their original appearance, all sandblasting work is completed from start to finish and consultations on sandblasting stone structures in Waterford are available.
The stone sandblasting services in Waterford carried out by Stone Sandblasting Waterford includes: sandblasting Gneiss, sandblasting Sandstone, sandblasting Granite, sandblasting Slate, sandblasting Laterite, sandblasting Marble, sandblasting Limestone, and sandblasting Basalt
For more information on stonework sandblasting in Waterford phone 087 919 2193