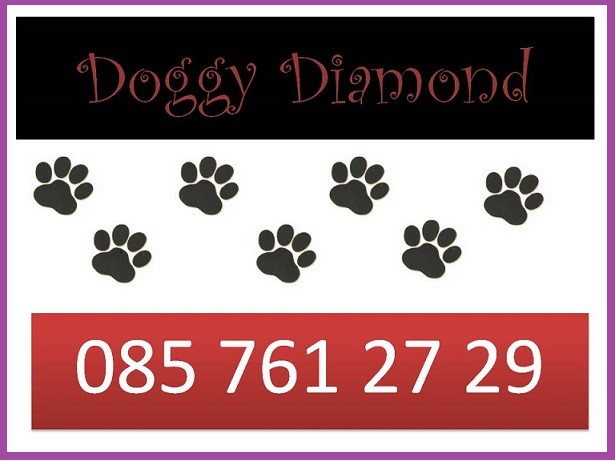 Doggy Diamond is a new and modern Dog Groomers in Mullingar, providing a professional dog grooming service at very affordable prices.
Accessories for dogs are available from Doggy Diamond Mullingar including dog fashion, and dog snacks.
Professionally qualified dog groomer with many years experience in caring for dogs, Doggy Diamond Mullingar offer an excellent dog grooming experience at their modern dog grooming studio in Mullingar. Doggy Diamond have state of the art equipment ensuring all dogs are groomed professionally in a comfortable

relaxed environment, services include, dog grooming Mullingar, affordable dog grooming, the best dog groomers, fashion for dogs, snacks for dogs, dog styling and trimming, dog accessories, dog grooming studio, pet care.
Specialising in grooming dogs and puppies, Dog Grooming Mullingar is the best dog groomers in the area and take great pride in offering an exceprional dog grooming service.
Dog Grooming Mullingar are happy to have the new hydrosurge bath for all breed of dogs and puppies.
The professionals at Dog Grooming Mullingar are expert when it comes to dogs and can put all dogs and puppies at ease when they arrive for grooming. Dog Grooming Mullingar offer keen rates for grooming all sizes of dogs and puppies, services include, dog nail care, dog paw care, bathing dogs, full groom, half groom for dogs, wash and blow dry for dogs, clipping for dogs, ear clean, anal gland cleansing, basic health checks for dogs, caring for dogs.
Doggy Diamond Mullingar stock a large and varied selection of stylish dog fashion and accessories at affordable prices.
Fashionable dog and puppy clothing and accessories are available for all breed of dogs and puppies.
All types of dog clothing and accessories are available at Doggy Diamond Mullingar, Fashionable clothing to keep dogs warm and dry with many styles to choose from.

All dog clothing and accessories at Doggy Diamond are available in male and female colours in all shapes and sizes at competitive prices, services include, dog clothing, accessories for dogs, raincoats for dogs, warm coat for dogs, winter clothes for dogs, clothing for puppies, thermal coats, dog costumes, dog jumpers, pet boutique, pet clothing.

For Further information please call 085 7612729