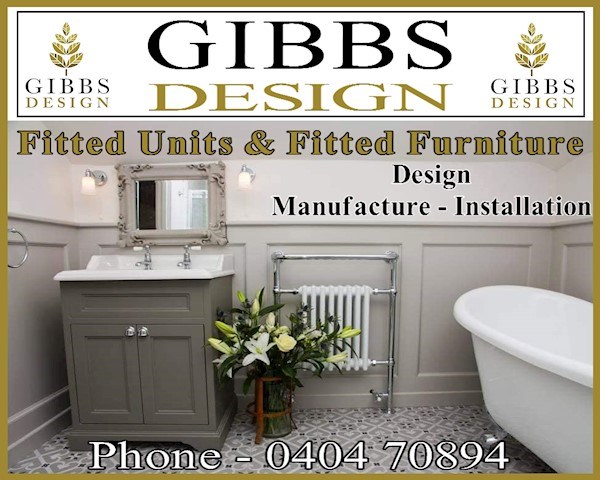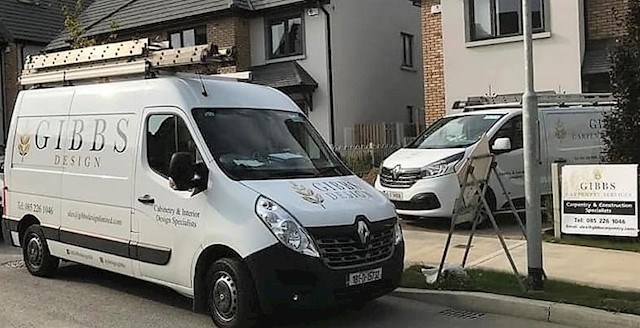 Gibbs Design are cabinetry design consultants in Rathnew County Wicklow who specialise in designing, manufacturing and fitting bespoke cabinetry units to the residential and commercial sectors in all areas of County Wicklow.
As a cabinetry designer and installer in Wicklow, Alex, proprietor of Gibbs Design is qualified in all aspects of bespoke carpentry, highly experienced in all cabinet styles, Alex is fully insured, VAT registered, and designs and installs bespoke cabinets and unique fitted furniture throughout County Wicklow.
The cabinetry services in Wicklow available from Gibbs Design include, bespoke carpentry design, bespoke carpentry manufacturing, cabinet design, cabinet manufacturing, cabinet installations and bespoke carpentry installations.
Designing made to measure bespoke cabinets and bespoke fitted furniture in Wicklow is a speciality of Gibbs Design.
As a Wicklow cabinet maker and designer, Alex is familiar with designing all kinds of bespoke timber units, fitted wardrobes are designed to enhance existing surroundings, unique cabinetry designs for commercial premises are provided, a portfolio of previously designed bespoke fitted furniture can be viewed, and free quotations on bespoke timber unit fitting in Wicklow are available.
The made-to-measure cabinetry designs in Wicklow available from Gibbs Design includes designing bespoke fitted furniture for; kitchens, bedrooms, bathrooms, living rooms, shops, offices, doctors surgeries, school creches and all measure cabinetry design.
Bespoke custom-made furniture installations in Wicklow are carried out by Gibbs Design.
With a custom-built carpentry workshop, fully equipped with all the woodwork equipment required for manufacturing unique made-to-measure furniture, Alex employs a team of fully qualified bespoke joiners and undertakes all sizes of bespoke joinery projects throughout County Wexford.
The custom-made furniture in Wicklow available from Gibbs Design includes manufacturing and installing; built-in wardrobes, custom made cabinets, fireplace surrounds, bathroom cabinets, traditional built-in furniture, wall cabinets, radiator covers, made-to-measure furniture, wall panelling, under-stair storage units, custom built kitchen units, customised window surrounds and all types of custom-made furniture.
Bespoke carpentry services for the commercial sector in Wicklow are provided by Gibbs Design.
Highly experience in architectural carpentry and traditional joinery techniques, Alex can design and install timber features in all types of commercial premises, is registered with The National Guild of Master Craftsmen and can provide bespoke joinery services in Wicklow at short notice.
The commercial bespoke carpentry in Wicklow available from Gibbs Design includes manufacturing and fitting; office cabinets, reception counters, commercial wall panelling, reception desks, concierge desks, door surrounds, window surrounds, lift surrounds, wall shelving, shelving units and ceiling panelling.
For more information on Gibbs Design bespoke carpentry services in Wicklow Phone 0404 70894