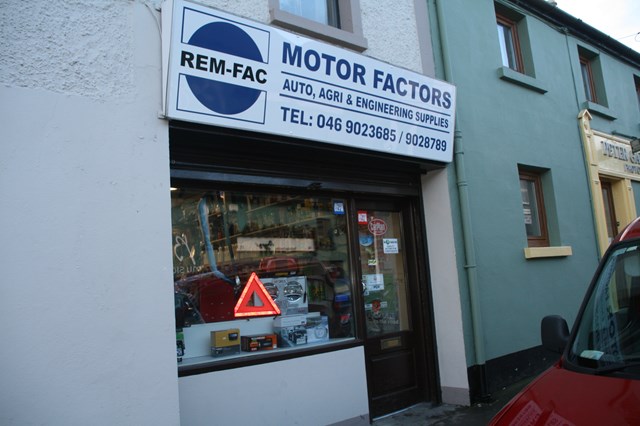 Situated in Navan, REM-FAC Motor Factors & Engineering Supplies stock an extensive range of car parts and agricultural parts.
Specializing in power tools and hand tools, this Auto Factors in Meath stock a comprehensive range of engineering tools and auto equipment.
Stock at REM-FAC Auto Factors in Meath include: wide range of nuts and bolts, welding equipment, truck supplies, agri supplies, transmission parts, power tools, hand tools, garage equipment, v-belts, pulleys, bearings and oil seals. Brands include Makita, Tengtools, Sealey, Luk Clutches, Autoglym and Castrol.
The staff at Meath Auto Factor Services provide professional advice on all types of auto replacement parts for all vehicles.
The car parts section in REM-FAC Auto Factors stock competitively priced spare auto engine parts.
The car parts section of the Auto Factors Services in Navan stock the following: fan belts, alternator belts, spark plugs, belt drives, timing belts, power steering fluid, brake fluid, gaskets, seals, engine oil, clutches, car water pumps, oil filters, air filters, truck parts, wheel cylinders, disc brakes, engine mountings, radiators, exhausts, brake shoes, brake hoses, brake pads, brake hubs drives, steering racks, shocks, suspensions, car switches and car sensors, car heating parts and auto cooling parts.
Specialising in agri supplies, the Agri Factors in Navan stock an extensive range of agri spare parts and farm machinery parts for Meath.
The staff at REM-FAC Agri Supplies Department in Navan are knowledgeable in all agricultural machinery parts.
Stock at REM-FAC Agri Supplies in Meath include: tractor parts, milking machinery parts, baling machinery parts, tractor gaskets, tractor brakes, suspensions for tractors, slurry machinery parts, milking switches, tractor exhausts, digger parts, trailer suspensions, buckets, plant machinery spare parts, tractor ignitions, agri machinery steering shafts and wheel nuts.
REM-FAC tools and garage-equipment division stock an extensive range of auto tools and equipment for garages in Meath.
If you need specific assistance on garage equipment, auto tools or power tools, the expert staff at REM-FAC's Garage equipment section in Navan is fully qualified to assist you.
Stock in Navan's Auto Factor garage equipment section include: balance weights, tyre levers, tyre repair materials, tyre repair tools, car valves, valve tools, garage workshop tools, torque spanners, basin wrench, socket sets, motor diagnostics testing, alan keys wheel balancers, tyre changers, car lifts, car wrenches, diagnostic tools, tyre re-groovers, tyre blades, air hoses, air gauges, air tools, car batteries, impact wrenches etc.
For further information call REM-FAC Auto Factors & Engineering Suppliers on 046 90 23685